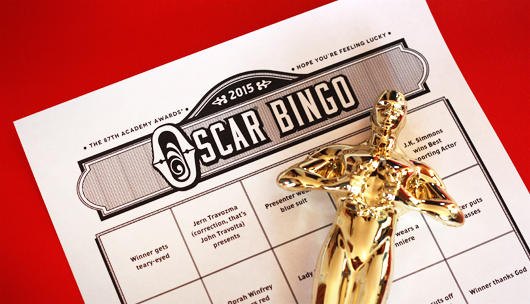 ---
To receive next year's free bingo game by email, sign up here.
---
My free Oscar® bingo game is back by popular demand. For seven years running, I've made a game you can play while you watch the Academy Awards telecast at home. It's lots of fun, and has even been featured on ABC TV. Grab these goodies before the Oscars this Sunday, Feb. 22, 2015!
How the game works:
There are 20 different game cards in the downloadable bingo file. I take care to arrange each card carefully; the bingo cards are not randomly generated. I'm aiming to make a bingo not too easy but not too hard.
– Save the PDF to your computer
– Open it in Adobe Reader
– Print the number of pages you need.
The first person to mark off five squares in a line wins. It could be a horizontal, vertical, or diagonal line. There's no freebie in the middle, so you've got your work cut out for you. Give fun prizes to winners at your party or play long distance with friends by text or tweet (#oscarbingo; I'm @howaboutorange).
Like every year, my big disclaimer applies: Someone might get a bingo ten minutes into the telecast, or maybe your group won't have a winner at all because my psychic powers have failed this year. Fingers crossed!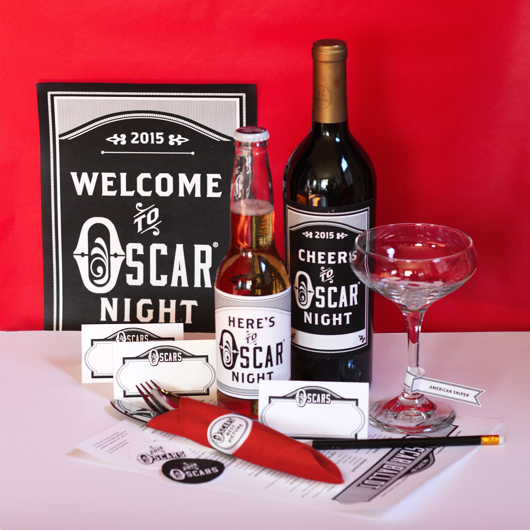 Grab the bingo game:
For maximum stylishness, I've designed a pack of decorations and a ballot to go with the bingo freebie. Make your viewing party the best ever!
Matching printable goodies in my shop:
Oscar party printable pack of decorations
Just the matching ballot
Just the place cards
Just the signs
Just the bottle labels
"OSCAR®" and "ACADEMY AWARDS®" are registered trademarks of the Academy of Motion Picture Arts and Sciences.