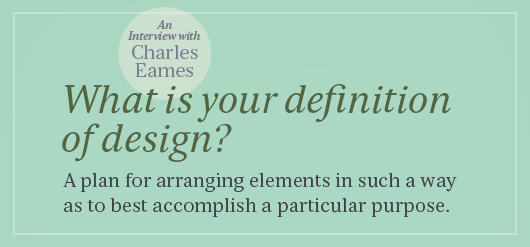 Wandering through a Design Within Reach store recently, I was struck by an interview with Charles Eames displayed on a wall. The interview was the basis of an exhibition entitled "What is Design" at the Musée des Arts Décoratifs, Palais de Louvre, in 1972. Questions were posed by Madame L'Amic and answered by Mr. Eames. An excerpt follows.
Q: What is your definition of design?
A:  A plan for arranging elements in such a way as to best accomplish a particular purpose.
Q: Is design an expression of art?
A:  The design is an expression of the purpose. It may (if it is good enough) later be judged as art.
Q: Is design a creation of an individual?
A: No—because to be realistic one must always admit the influence of those who have gone before.
Q: What are the boundaries of design?
A: What are the boundaries of problems?
Q:  Does the creation of design admit constraint?
A:  Design depends largely on constraints.
Q:  What constraints?
A:  The sum of all constraints. Here is one of the few effective keys to the design problem: the ability of the designer to recognize as many of the constraints as possible—his willingness and enthusiasm  for working within these constraints—the constraints of price, size, strength, balance, surface, time, etc.; each problem has its own peculiar list.
Q:  To whom does design address itself: to the greatest number (the masses)? To the specialists or the enlightened amateur? To a privileged social class?
A:  To the need.