If you're planning an Oscars party this year, you might like some quick and easy printable decorations to make your Academy Awards shindig more festive. I've stocked my Etsy shop with printable PDF templates for Oscar party posters, place cards, beer and wine bottle labels, wine glass stem flags (so your drinks don't get mixed up), napkin rings, and cupcake toppers. The set features this year's nominated movies, actors, and actresses.
There's also a printable 2017 Oscars ballot that matches this year's free Oscar bingo game design. I've added points for categories to prevent ties and to reward you for guessing the hard categories correctly. Sound editing is underrated, so let's give those folks some love.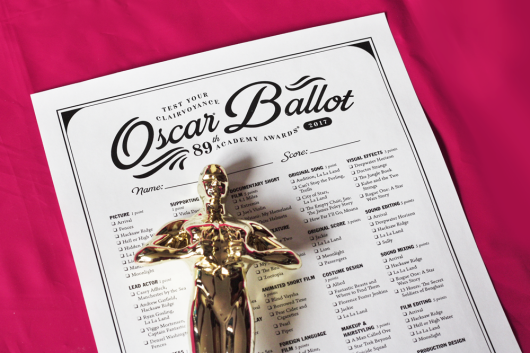 As always, my 2017 Oscar bingo game will be free. It will be ready a week or two before the show on February 26 after more details about the ceremony and presenters are released. I'll post it here, or if you're not one of the thousands already on the mailing list, you can sign up to receive the PDF by email. There will be 20 different bingo cards like always.
Update: Ta da! Download 2017 Oscar bingo here.