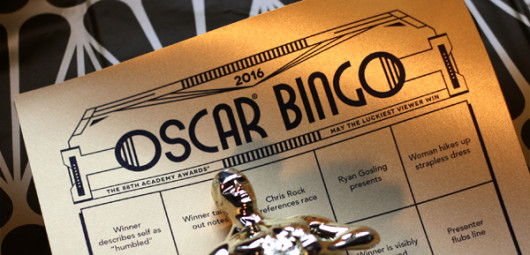 ---
 To receive next year's free bingo game by email, sign up here.
---
It's that time again! My eighth annual FREE Oscar® bingo game is ready. Lounge on your couch and play it with friends to make the Academy Awards more fun. Bring on the tears, flubs, and stumbles! The Oscars ceremony is Sunday, Feb. 28, 2016.
Download the FREE file:
2016 Oscar bingo game PDF
How the game works:
There are 20 different game cards in the downloadable PDF file. I take care to arrange each card carefully; the bingo cards are not randomly generated. I'm aiming to make a bingo not too easy but not too hard.
– Save the PDF to your computer
– Open it in Adobe Reader
– Print the number of pages you need at 100% size
(Here's the metallic gold paper I used. It works with laser printers and ballpoints or Sharpies.)
The first person to mark off five squares in a line wins. It could be a horizontal, vertical, or diagonal line. There's no freebie in the middle, so you've got your work cut out for you.
Play with friends:
Give movie candy or gift card prizes to winners at your party, or play long distance with friends by text or tweet. (I'm @howaboutorange on Twitter and Instagram, #haobingo).
Fallibility disclaimer:
Like every year, my big disclaimer applies: Someone might get a bingo ten minutes into the telecast, or maybe your group won't have a winner at all because my psychic powers have failed this year. Fingers crossed.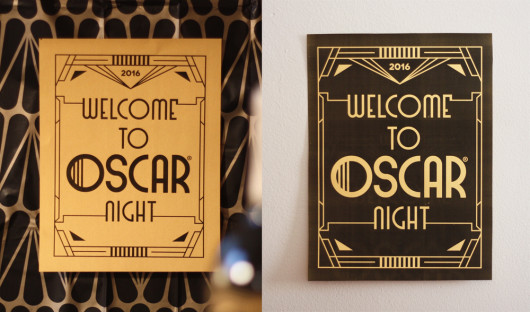 More printable goodies in my shop:
To make your viewing party extra glamorous, I've also designed a matching ballot and a pack of decorations, including posters, wine and beer labels, napkin rings, stemware flags, cupcake toppers, and more. Find all the goodies in my Etsy shop.
Enjoy!

"OSCAR®" and "ACADEMY AWARDS®" are registered trademarks of the Academy of Motion Picture Arts and Sciences.