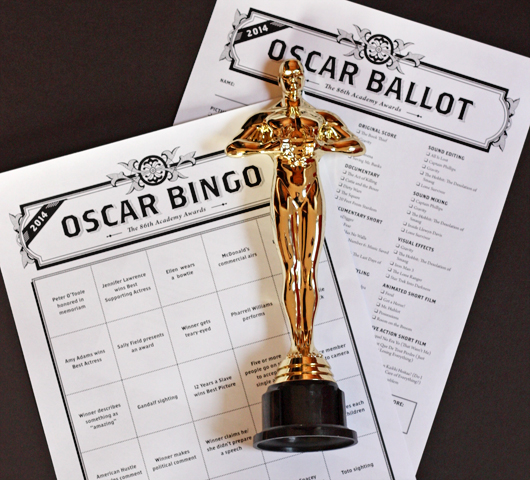 ---
To receive next year's free bingo game by email, sign up here.
---
I just finished my sixth annual Oscar bingo and ballot set, free for the downloading. Whether you're hosting a viewing party on Sunday or lounging with the fam, nothing makes the Academy Awards better than some friendly competition.
To use the ballot: Print one for each guest and have them mark their predictions before the show starts. The person with the most correct guesses wins.
To use the bingo cards: 20 different game cards are included in the PDF. Print out the number of pages you'll need for your guests. The first person to mark off five squares in a line wins. It could be a horizontal, vertical, or diagonal line. (This year I removed the center "free" space to make you work a little harder.)
Download the 2014 Oscar ballot here
Download the 2014 Oscar bingo game here
And like every year, a disclaimer: Maybe someone will get a bingo ten minutes into the telecast, or maybe your group won't have a winner at all because my psychic powers have failed. Best of luck!